How does VPN Connection Works?
A VPN creates an encrypted "tunnel" inside your Internet connection. This VPN tunnel protects all the data inside and makes it anonymous.
Let's Explain Virtual Private Network Tunneling and Encryption
A VPN works as a private point-to-point tunnel inside the Internet that is protected with encryption. On the other side of the tunnel, you connect to a VPN server. You can select from different geo-locations of a VPN server for your VPN connection.

You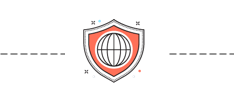 Encrypted Connection

VPN Server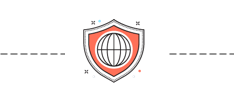 Anonymous Identity

Internet Freedom
Basically, you need to create a special network connection inside your current internet connection.  For this, you go into Network settings on your device and make a new secure connection to your VPN provider's server. You need to choose special encrypted connection protocol (aka VPN protocol), something spelt like SSTP, L2TP, PPTP or OpenVPN. Then enter your login/password from your VPN provider and hit "connect" button.
That's how you create a second layer of your internet connection, so-called VPN tunnel. Inside the tunnel, all the data will be encrypted and protected from snooping or tapping and become fully anonymous. No one can see what sites are you visiting under VPN protected connection. You can choose distant VPN servers from different countries thus if some sites are blocked in your area you can easily unblock them.
To sum things up, VPN connection creates an encrypted tunnel inside your internet provider's connection to provide you network anonymity, internet security and combats any internet censorship.

Unblock Restricted Content and Censorship
Connect to distant VPN servers and access Internet with no restrictions. Unblock any restricted site or access geo-restricted content

Public WiFi Protection with a VPN
VPN service will protect you from hacking and malware. When it comes to a safe WiFi hotspot protection use VPN tunnel in public spaces like coffee shops, airports, etc

Network Anonymity
Systems, devices or malicious people will not be able to see the data that you send and receive, thereby being fully anonymous via VPN encrypted tunnel

VPN for Internet Security
RayaVPN will create a secure tunnel and all your data will be routed through it. So that nobody can tap into your sensitive data and spy on it. VPN encrypts your personal data
Why My VPN Needs to Be Anonymous?

Protect Your Privacy with a VPN
Free from a third-party watch. When you are connected to the VPN all your data will be encrypted and complete privacy and anonymity will be provided

Prevent ISP Snooping
Use protected VPN DNS to ensure your ISP will not be able to see the URLs and links that you visit, keeping your privacy intact. Stop ISP from keeping logs on your internet activity

Protect Your Online Identity
With a VPN you can hide your identity and thereby be anonymous online. You will get a new and fresh anonymous IP address and selected network location to protect your online identity

Forestall Targeted Ads
While using anonymous VPN connection within anonymous browser mode VPN will change your IP so content providers will not be able to detect your physical location and identity
Use VPN to Unblock the Internet

Unblock Websites with VPN
Unblock restricted websites at work and visit any site you like, it's up to you to decide. Unblock websites at school and browse them freely and conveniently.

Global VPN Network
Access to geo-content, for instance, access to US and UK video streaming or access to local sports events broadcasting. All you need is simply choose right VPN server location

Circumvent Internet Restrictions and Censorship
VPN allows you connect to websites that are restricted in your network. Unblock websites in China, in the Middle East or in any other country with censorship.

Use VPN for Streaming
RayaVPN manages its own network and owns all the hardware, enabling us to deliver the premium & fastest VPN speeds in the world.